GUEST POST:
Jill Shalvis' Lucky Harbor Series Wrap Up
Lucky Harbor started with three estranged sisters inheriting a dilapidated inn on the Pacific Northwest coast. It was supposed to be all one book, in fact. But I never could manage to contain it in one story so I split it into three, one love story for each sister. My goodness that was fun. It was so much fun, I came up with another trilogy idea. Three strangers stuck alone in a storm in a diner with nothing readily available except a chocolate cake. Hello, chocoholics. I thought it would end there but I've never been so happy to be wrong. And so, unbelievably, here I am twelve books later, still as much in love with Lucky Harbor as I ever was. Oh the fun I had coming up with characters and figuring out how to torture them.:) Seriously, I have the best job on the planet.
To celebrate the end of the series, today I'm answering some fan questions about Lucky Harbor.
Olivia and Cole in
He's So Fine
start their relationship out with a bang - with Olivia almost drowning poor Cole. Is this your favorite scene between the two?
While I really love that scene, I have to admit that my favorites are whenever Cole pulls a MacGyver move…
Friends-to-lovers, reunited couples, meeting for the first time. You really mix it up when it comes to the different kinds of relationships your couples have. What is the most memorable character dynamic in the series?
The role reversal with
Aubrey and Ben from
Once In A Lifetime
is really interesting.
She is the 'bad girl' in town that everyone tries to warn Ben against.
There are so many hunky men in Lucky Harbor it's a wonder how the women get anything done! Which of your heroes is the
most eye-catching.
Oh, good question! I think a man in a uniform would get a lot of
women's attention, so I'll go with Sheriff Sawyer Thompson from Head Over Heels or firefighter Jack Harper from Always On My Mind.
You must get a lot of fan mail from readers. What is the most touching message you have ever received?
I do get a lot of mail and I read every single one of them, and love them. I got a lot of mail on Lance from Lucky Harbor, who suffers from Cystic Fibrosis. Some of the most touching emails are from sisters, moms, girlfriends of people with Cystic Fibrosis telling me how much it meant to them that I bring light to the disease.
As for my funniest fan mail, that would have to be the woman who'd just read
Simply Irresistible
where Maddie, the heroine, um … does herself by sitting on the dryer in the laundry room. The reader said how disappointed she was that she'd just bought a stacking washer and dryer and couldn't get up on top of the dryer to try out the technique.
Saying goodbye to Lucky Harbor was far more difficult than I imagined. I mean I thought I was ready to leave but as I wrote this last trilogy, It's In His Kiss, He's So Fine, and One In A Million, it really hit me. It was over. I was so sad that I wrote a holiday novella. :) I couldn't help myself! Merry Christmas, Baby (12/2) is my love letter to the Lucky Harbor readers (and a surprise revisit with one of my fave couples) who enjoyed the series and stuck with me for twelve books. TWELVE books. I still can't believe it. I'm not sure I'll ever forget Jax, Ford, Sawyer, Ty, Matt, Josh, Luke, Jack, Ben, Sam, Cole, and Tanner… Sob! But I have plenty of new stories to tell, so no worries. I'm still writing the animal series and for those of you who read and loved Then Came You this past summer, Still The One comes out 4/15. And … drum roll please … I'll have a brand new series coming out in 2015. The first book is written and I'm keeping it under my hat a little bit longer but let's just say there's some hot alpha brothers coming your way soon.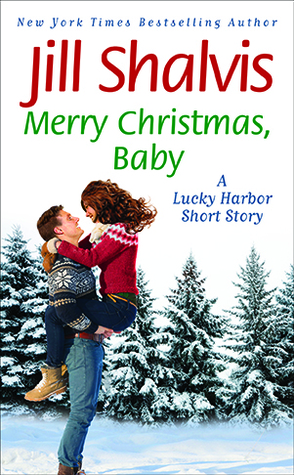 Lucky Harbor Series #12.5
Release Date: December 2, 2014




SYNOPSIS:
Wild child Chloe Thompson can't believe how much things have changed. She still can't get enough of her sexy husband Sawyer, but he seems to prefer working to thinking about impending fatherhood. So tonight, a very pregnant Chloe is escaping her troubles at the town Christmas party.
Sheriff Sawyer Thompson hopes surprising Chloe at the party will give him a chance to set things right. But as the snow begins to fall and the wind rages, he wonders whether he can make it back in time. While mother nature conspires to keep Sawyer and Chloe apart, an unexpected arrival will require them to kiss and make up . . . and ring in the happiest holiday Lucky Harbor has ever seen.
MEET THE AUTHOR:
New York Times
bestselling author Jill Shalvis lives in a small town in the Sierras full of quirky characters. Any resemblance to the quirky characters in her books is, um, mostly coincidental. Look for Jill's bestselling, award-winning books wherever romances are sold and visit her website for a complete book list and daily blog detailing her city-girl-living-in-the-mountains adventures.
SOCIAL MEDIA LINKS:




GIVEAWAY:
a Rafflecopter giveaway